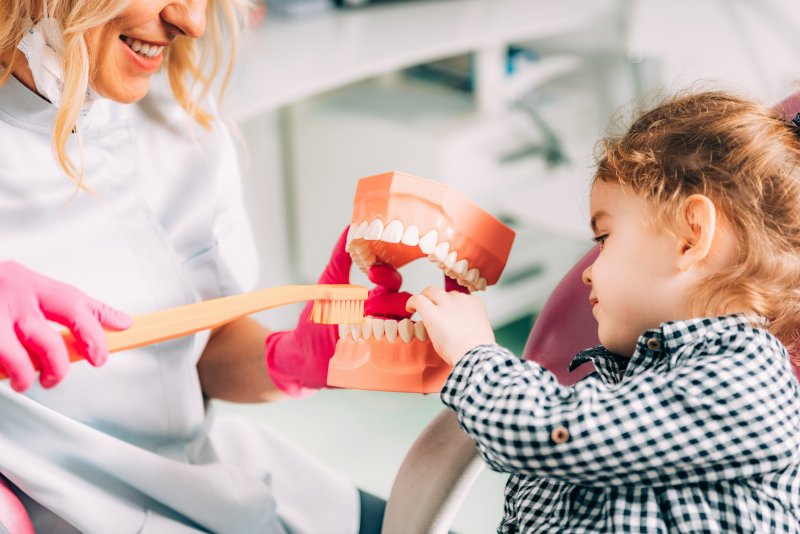 Among the many milestones of your child's first year of life, one of the most important is their first dental appointment. There is a reason why most experts recommend visiting a children's dentist in Channahon no later than the first birthday: doing so could protect your baby from severe oral health issues later in life, and it could potentially end up saving you a lot of time and money. Below are 5 important reasons not to delay your little one's first dental checkup.
1. Early Visits Can Prevent Cavities
Tooth decay is the most common chronic disease during childhood; more than half of all children suffer from cavities in their baby teeth. When the baby teeth suffer from cavities, they could potentially compromise your child's ability to chew properly and develop their speech. And if the decay isn't stopped, it could spread throughout the mouth and even impact the underlying permanent teeth. Seeing a dentist early in life can prevent cavities from forming or give the dentist a chance to treat them before the damage becomes irreparable.
2. Early Visits Can Prevent Oral Pain
Even though baby teeth are temporary, they still hurt if they become infected. Stopping cavities before they start could end up saving your child from intense chronic pain. If your child seems to be suffering from some form of oral discomfort, call a pediatric dentist immediately.
3. Early Visits Help You Save Money
The longer you delay dental care for your child, the more complex their dental issues tend to become – and that means you'll have to pay for more complex care later on. It has been found that parents who don't schedule year one appointments for their little ones tend to spend approximately $360 more per child over the years. Early dental visits aren't just good for your child; they're also good for your wallet.
4. Early Visits Help Prevent Dental Anxiety
It's not unusual for children to be fearful or stressed about dental appointments. Oftentimes, these fears are linked to a negative experience at previous visits. Beginning dental visits early in life can help ensure that your little one's first experiences with the dentist are good ones. They'll have a chance to get used to the dentist as well as the sights and sounds of the office, and they'll be less likely to think of a dental visit as a frightening event.
5. Early Visits Prevent Tooth Loss Later in Life
Cavities, gum disease, and other oral health problems can lead to tooth loss if they go untreated for too long. Losing a baby tooth too early can disrupt your child's oral development, and losing a permanent tooth can be downright devastating for their smile. Like with cavities, seeing a dentist now can lower the risk that they'll end up with gaps in their grins later.
Ideally, the first dental appointment should take place within six months of your child getting their first baby tooth. Get in touch with a pediatric dentist today to make the necessary arrangements and help your little one begin a lifetime of healthy teeth and brilliant smiles.
About the Practice
Grand Dental – Channahon has a team of skilled dental specialists, including a pediatric dentist that can offer the specialized care that your child's one-of-a-kind smile deserves. When the time comes for your little one's Age One appointment, you can count on us to make it an experience that's productive, stress-free, and even fun for everyone. To schedule a pediatric appointment, visit our website or call (815) 467-1111.